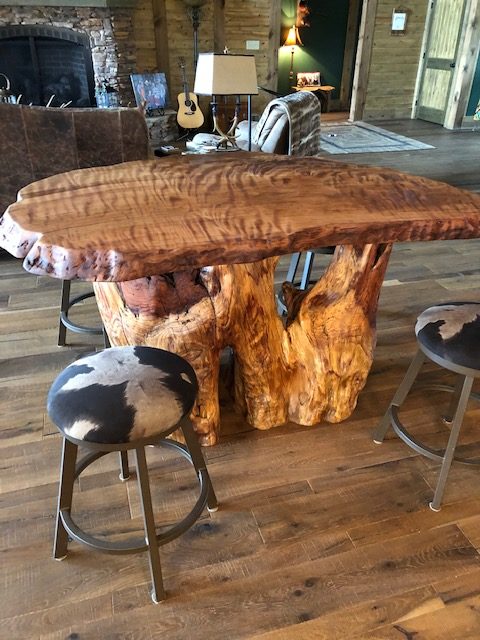 Burl wood furniture is a unique addition to any home, business, or cabin. We not only provide raw materials for woodworkers to create their own burl wood furniture and decor but also offer a variety of finishing services and build custom pieces for our clients. Our custom burl furniture can be made to fit any design preference. Whether your decor is rustic and natural or modern and minimalist, we can help you find the perfect centerpiece for any room in the house.
With so many styles to choose from, finding the right piece for your space can be a challenge. To give you some ideas, we've put together just a few of our own burl furniture projects as inspiration. These nineteen burl wood furniture examples are all custom projects we've completed for our clients and are just a small taste of the beautiful custom furniture that can be made with burl wood.
Burl Wood Tables
Burl tables give a touch of rustic warmth to any room in the house. The classic live edge coffee table is what most people picture when they think of burl wood furniture, but there are many other styles of tables that can be made from burl wood. Whether you're looking for something natural and rugged or something sleek and modern, burl wood is an excellent choice for coffee tables, dining tables, end tables, and more.
1. Rustic coffee table
Burl wood slabs make beautiful coffee tables and come in about any shape and size. The live edge on these slabs draws the eye and gives these tables a unique, organic beauty that can't be found anywhere else. We finished the burl coffee table shown above in tung oil and paired it with metal legs for one of our clients. Natural wood bases are also a popular choice for coffee tables.
2. Matching burl side table set
A matched table set is a fantastic way to decorate a larger room and draw a little more attention to the rustic theme. The number, size, and style of the tables are up to you. The example set shown features manzanita bases and redwood slabs finished in tung oil.
3. Redwood dining table

Redwood is one of the best choices for burl wood dining tables. Most other types of wood require multiple pieces to get the length and width needed for a large dining or conference table, but we can find redwood dining table slabs large enough to build these tables from a single slab. The example shown features metal legs. We also have several other rustic burl wood base options available for dining tables including wood slab legs.
4. Glass top table
Burl wood furniture featuring other materials such as glass or metal is also quite popular. For a more modern look, consider pairing a burl wood base with a glass table top. This simple but elegant design allows the base to take center stage and is a wonderful way to show off the character and color of stumps and root pieces. We carry burl table bases in a wide range of sizes and styles, for anything from a decorative end table to a family dining table. Your base options aren't just limited to redwood either. We often have cedar, maple, juniper, manzanita, and more in our inventory. If you don't see what you're looking for listed on our website, contact us to see some of our unlisted inventory.
5. Custom cut burl table
Looking for a table with a more unique shape? Our burl table tops can be custom cut to any shape and size. We built this octagonal poker table with a redwood burl slab and a maple base. This was a custom poker table that undoubtedly elevated game night. Though the example shown has smooth-cut edges, we also specialize in custom carving to keep a natural, live edge shape on our cut slabs. We can also cut tops round, oval, or anything your design preference and needs designate.
Counters, Bars & Kitchen Islands
Solid wood countertops are a beautiful addition to any kitchen or dining room. Redwood is a popular choice for kitchen counters, restaurant tables, and bars. The size of these trees allows us to build entire bartops and kitchen islands from a single slab of wood. A sturdy, high-quality finish ensures that the wood will stay in good condition even through regular wear and tear.
6. Live edge kitchen island
Larger redwood slabs make beautiful kitchen islands. We custom shaped this slab in our shop and our client had it finished on site.
7. Redwood bartop
Whether you're building a new bar in your home or redesigning a restaurant, a redwood bartop is a great way to add interest and color to a room.
8. Burl wood vanity
A burl vanity like this one makes a unique and beautiful base for a bathroom sink. These pieces can have a live edge or be squared off for a more modern look. Generally, vanities should be finished in epoxy to ensure that the piece will be protected from water damage. If high gloss isn't the look your going for, we can accommodate you by making it matte to suit your style and needs.
Burl Wood Desks & Office Furniture
Burl wood furniture is a fantastic choice not just for the home but also for offices and business settings. Our own office wouldn't be complete without our redwood desks, and even after years of everyday use, they're still in pristine condition. Redwood, especially old-growth, is much denser than most other softwoods, so a superbly finished burl desk will easily stand up to regular use.
9. Rustic burl wood desk
A burl wood desk is a smart choice for any space from a large corporate office to a small home workspace.
10. Redwood conference table
If you're looking for something a bit bigger, consider a burl wood conference table. Like our dining tables, we can build these in a number of unique styles, and seat any number of people. Whether your office is small and intimate or large-scale and corporate, our options provide a welcoming and professional look to any space. We have slabs in our inventory up to 20 feet long. They can be paired with metal, root bases, or slab legs. A redwood conference table is sure to impress everyone in the office while allowing plenty of space for productivity.
Rustic Fireplace Mantels & Shelves
A solid wood fireplace mantel is a standard feature of many rustic homes and cabins and is an easy and subtle way to add a hint of rustic flair and interest to a room. Our mantels come in a variety of sizes, and we can easily cut any piece down to your specified dimensions. We also have great options for wall-mounted shelves.
11. Live edge mantel
For a more rustic look, we recommend leaving the natural live edge of a mantel intact. This live edge brings a completely unique shape and texture to the mantel, with a "straight from nature" look that has recently become extremely popular. The top right mantel shown is a splendid example. If you prefer something a little more modern, though, there are plenty of other options.
12. Square cut curly redwood mantel
Curly grain redwood is a popular choice for mantels. Square cut mantels that show off the curl on all sides highlight this grain pattern especially well. This is a perfect choice for a more modern fireplace mantel, and the minimalist shape brings attention to the natural color and grain of the wood. The mantel to the lower left in the picture above is a notable example. We finished this piece and the live edge mantel next to it in Danish oil.
13. Custom-shaped mantel
Just like our tables and counters, we can custom carve the edge of any mantel to your specifications. This gives a natural look similar to a live edge but allows for more control over the shape, curves, and dimensions of the finished mantel. Check out these other examples of custom-shaped mantels on our site.
Benches & Chairs
Redwood is an excellent choice for benches, chairs, stools, and other seating. Whether you're looking for a standalone piece or a set of benches or chairs to go with a burl wood dining table, we have great options available. All our benches and chairs are custom-made to order. We also offer bulk discounts on larger orders if you're looking for seating for a large event.
14. Redwood bench
Whether used alone or paired with a table, simple redwood slab benches add a subtle touch of rustic warmth to any home or business. These benches are also popular for large events such as weddings, as well as restaurants and other venues.
15. Custom carved burl wood bench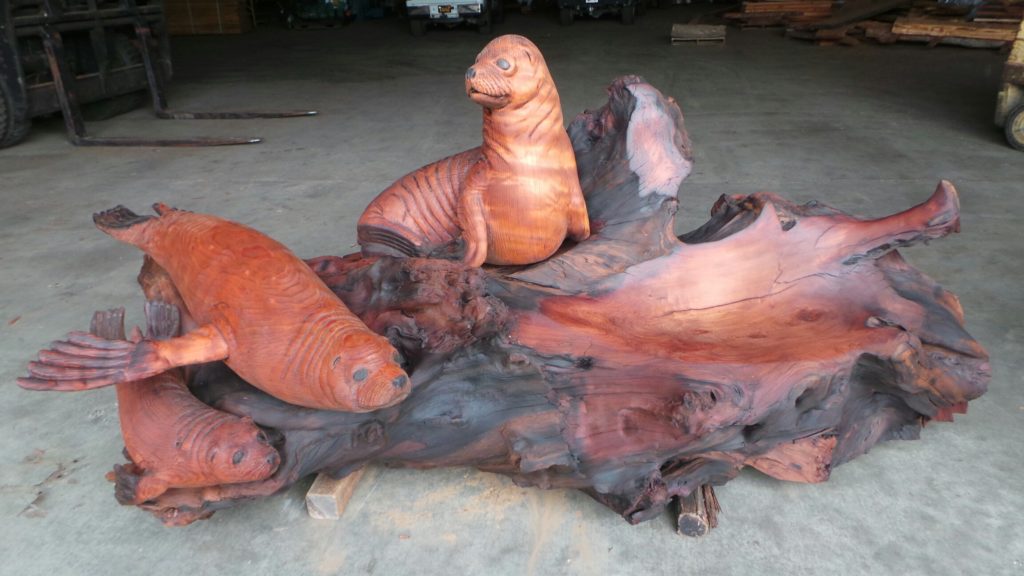 If you're looking for something truly unique, we also offer custom-carved benches. These benches are popular as decorative pieces for homes and businesses of all kinds. Our wood artisans can create imaginative, one-of-a-kind benches that are whimsical and practical.
16. Burl wood armchair
We collaborate with several artists and furniture makers who design beautiful burl furniture from our live edge slabs. Armchairs and rocking chairs made from redwood are surprisingly comfortable, and exceptional conversation pieces. The example shown was built by our friend Kelly Maxwell at Littlebranch Farm.
Burl Wood Art
We like to think that every piece of custom burl furniture can be called art. We love these pieces not only for their functionality but for their beauty and uniqueness. If you're not looking for a functional piece, though, you might consider one of our wall art slabs or landscape pieces to decorate your home or garden.
17. Burl headboard
We list some of our more unique slabs on our headboards and wall art page. The character voids in these slabs make them less practical for tabletops but perfect as art pieces. Their unconventional look adds instant character and natural charm to any bedroom. The tung oil finish used here really brings attention to the character of the wood.
18. Burl wall art
While burl wood slabs make excellent wall art pieces on their own, they are also beautiful when carved, stained, or otherwise modified. Most of the burl wood art pieces on our page have a natural, wild shape that envokes memories of rugged nature and its untamed beauty. However, squared or rectangular-shaped pieces can be just as inspiring and decorative while offering plenty of space for creativity and alteration. This beautiful wall hanging was designed by The Yesmen using one of our dining table slabs and has been adorned with gorgeously distinctive artwork.

19. Natural redwood root sculpture
Though most people use our landscape pieces as garden decor, these pieces can also add interest and beauty as indoor sculptures. Our redwood roots and stumps have been used as interior decor in restaurants, offices, and homes. We can sand and finish these pieces to preserve the natural color of the wood or leave them unfinished for a driftwood-like appearance.
Designing Your Own Custom Burl Wood Furniture
Whether you're a woodworker looking for your next project or a homeowner looking for some new rustic decor, burl wood furniture is an extraordinary choice. We hope these examples have inspired you and look forward to collaborating with you to create the perfect piece for your home. Everything we do is completely custom and one of a kind, from providing the raw materials for craftsmen and lovers of DIY projects to finishing our own custom pieces. If you like what you see here or have ideas for your own custom burl furniture, contact us with some information about your project and we'll be happy to help.