Redwood Burl Slabs 2
Salvage Redwood Burl Slabs
Did you know?
We manufacture our redwood slabs from salvaged, old-growth coastal redwoods. In a nutshell, salvage redwood is redwood that has already fallen or that was cut long ago. We believe in responsibly sourcing our redwood every time. Therefore, we never cut down redwoods that are alive or redwoods that are still in the ground. 
When you find your perfect redwood slab, you will find that they are quite versatile. For example, they create burl slab coffee tables, driftwood tables, and burl desks. However, you can easily craft these beautifully unique and highly figured slabs into a variety of redwood furniture and DIY projects.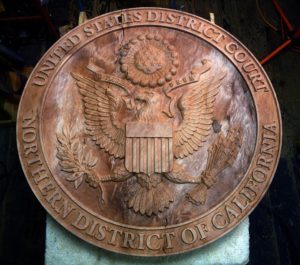 This redwood burl crest is located at the US District Court in San Francisco, CA.
---