Redwood Conference Tables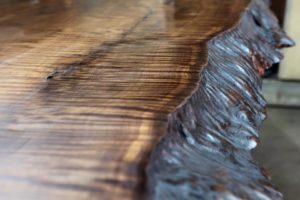 Custom finish by Kelly Maxwell – Littlebranchfarm.com
Our redwood conference tables & rustic kitchen tables are cut from salvaged logs and stumps. These slabs are perfect for executive desk tops, restaurant tables, conference room tables, dining room tables, bars, countertops, coffee tables, or rustic burl furniture of any kind. We have hundreds of slabs ranging from 6′ to 24′ long and from 2′ to 5′ wide. A large number of these table slabs are dry. These large sizes are extremely hard to find! Most of our slabs are salvaged old growth redwood, though we do offer some second growth redwood slabs as a more economical option.
We're Happy to Customize
Please let us know what you are looking for. If we do not already have it in stock, we can cut it for you. Our live edge slabs, solid wood tables, roots and stumps are shipped all over the world. We have the best selection and some of the biggest redwood conference room and dining room table slabs available.
The rustic look usually means the wood has a live edge and tends to have defects in the wood such as small cracks, knots, and curly or burly grain. If you want a defect-free piece, they are available but not common. Please let us know how we can help with your special project.
For more information on designing a rustic table of any kind, please go here first.
Ethically Sourced Products
Here at Redwood Burl Inc., we go beyond the typical social and environmental considerations. We ethically source all our products. Additionally, we create our products in safe facilities. We pay our workers fair wages to work legal hours, and we treat our workers well. We believe in respecting the environment during the production and manufacture of the products
---