Rustic Countertops
Redwood as Rustic Decor in the Kitchen
Rustic countertops are a unique and cozy choice for kitchen and dining room decor. When choosing your countertop surface, it is important to consider the general aesthetic of your space and decide if you are looking for a truly rustic redwood slab, or if you would prefer something more clean and contemporary. Solid wood counter tops made from our old growth redwood make exceptional rustic wood kitchen islands, counter tops and bar tops. In essence, the beautiful and unique redwood slab adorning your space will become the focal point of any room.
Customizing Rustic Countertops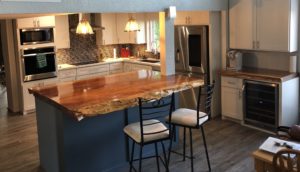 We truly want to help you craft your ideal redwood counter surface. In turn, we can cut our countertop slabs to most any size, length or thickness. Once you have decided on the piece you want, you can customize the final look, as well as the finishing coat on the slab before you receive it. We can ship the slab to you directly as, if you prefer to complete the project on your own. Or, you can let us do all the work, and request any custom edgings or touches. Additionally, we can do some sanding, or even finishing, prior to shipment of your redwood countertop. We are all about customizing your redwood project and creating your dream redwood furniture. Finally, we will ship your countertop piece to your door, ready to install.
If you don't find exactly what you are looking for, please let us know what you need. We can email you photographs of slabs from our large inventory and are available for after hours telephone calls.
Rustic Counter Tops Currently Available
---