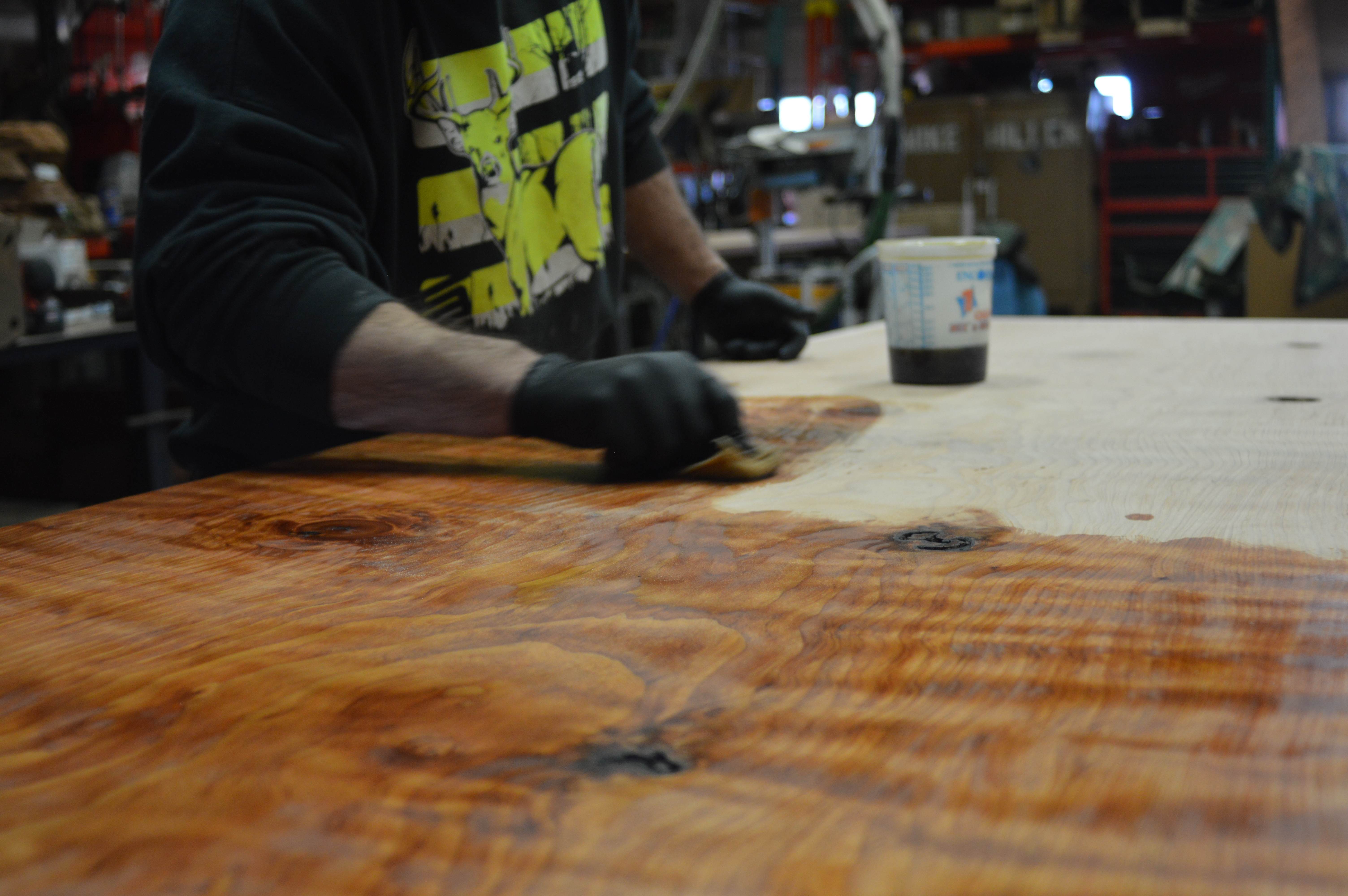 Redwood Furniture Care – Tips & Tricks
Redwood tables, mantels, and other furnishings are a beautiful addition to any home. Whether your redwood furniture is an antique that's been in the family for years or a brand new purchase, it's likely to remain a cherished heirloom for generations to come. With proper redwood furniture care and maintenance, you can easily keep your piece in good condition for many years. Our clients often ask us about the best way to finish and care for their new redwood table or mantel. In this blog post, we'll answer some common questions about redwood furniture care and maintenance.
The Best Finish for Redwood
The best way to keep your redwood furniture looking like new will depend in part on its finish. We've discussed how to finish redwood in several previous blog posts. You can find some helpful information there if you're starting with a raw and unfinished slab. Check out our previous posts on sanding redwood, finishing redwood, and recommended finish types for more information.
A high-quality finish will ensure that your redwood furniture will remain in good condition for years to come. A lot of finishes will fade or yellow over time, and most are not durable enough to avoid small dents and scratches in the wood. Taking extra care when finishing burl wood furniture will help keep the finish in good condition for longer, and make refinishing easier if it's needed in the future. Refinishing is especially difficult with resin, spray lacquer, varnish, and polyurethane finishes, but wipe-on oil finishes are relatively easy to reapply when needed.  We feel that the best finish for redwood furniture is natural tung oil. While this finish isn't as durable or glossy as an epoxy or resin finish, it's easy to maintain and highlights the color and character of the wood. Tung oil gives burl wood furniture a natural look and feel. Additionally, consistent redwood furniture care is easier with a less shiny surface. 
These examples show two of the finishing options used in our shop. We finished the table set on the left in tung oil and the vanity on the right in conversion varnish.


Finishing Options
When we build a custom piece for one of our clients, we strive to provide a high-quality finish that will last for years to come. We offer tung oil and conversion varnish finishing options for most of our pieces, as well as a Danish oil finish for our mantels. Recently, we've also started using Envirotex resin in our shop. The right finish for your project will depend on the look and feel you prefer and the durability needed. To learn more about the different options we offer, check out our previous blog post on custom finishing.
Maintaining Finished Redwood Furniture
Once you commit to owning a piece of redwood, you are committing to consistent redwood furniture care. Tung oil finishes should be reapplied about once a year. We recommend the Waterlox or Minwax brand, both of which are readily available at most paint and hardware stores. Tung oil is a simple wipe-on finish that is easy to apply, and taking the time to do this yearly will keep the wood looking vibrant. The same principle applies to the Danish oil finish on our mantels. You can easily apply it to any damaged or faded areas to restore the sheen and color of the wood.
Conversion varnish does not need to be reapplied. Regular cleaning with a soft, dry cloth and care to avoid excessive wear is all that is necessary. Some woodworkers recommend using paste wax to help protect varnished wood and polish to maintain the shine, but it is generally best to avoid applying these too often. Always check the finish manufacturer's recommendations for the best product to use – different finishes have different requirements. If you do use waxes or polishes on your redwood furniture, be sure to test them first in an inconspicuous place.
Protecting Redwood Furniture from Damage
There are also measures you can take to avoid damage to your redwood furniture. Some wear and tear should be expected; especially on dining tables, desks, and other pieces that are used every day. You can minimize this by using coasters, felt pads, and other means to protect the surface of the wood. Keep finished wood furniture out of direct sunlight and try to avoid extremes of temperature and humidity whenever possible. Unfinished redwood will turn grey over time when exposed to the elements. While the "driftwood" look is often desirable for landscape pieces, you will need to finish pieces for exterior use if you want to preserve the original color. Keep outdoor furniture covered when not in use to protect it from sunlight and water damage, and be sure that the cover you use provides plenty of insulation against cold or hot weather.
To keep your burl wood furniture in good condition, maintaining the correct temperature and humidity is vital. Humidity levels should be no more than 50% and no less than 35%. Standard room temperature between 60-80 degrees Fahrenheit is ideal. If the temperature or humidity is too high or too low, movement or cracking of the wood can occur.
Cleaning Finished Redwood
You should avoid using harsh cleaning chemicals on any wood surfaces. Frequent dusting with a soft, dry cloth will remove most dirt and smudges. For more thorough cleaning, a citrus-based cleaner designed for wood can help keep your redwood furniture looking new. In our office, we regularly clean our redwood furniture using Murphy's Oil Soap. Be sure to dilute the mixture with water before using. Envirotex finishes are generally more resilient, but be sure to avoid using products containing alcohol or acetone as these can damage the resin. We recommend always testing any cleaning products in a small, inconspicuous spot first to ensure that they won't damage the finish, and be sure to check the manufacturer's recommendations first.