Often, fallen redwood logs still have the tree stumps attached. On properties milled for development, redwood root stumps remain buried in the ground. Typically, stumps are the undesirable leftover after milling operations. It is no easy task, however, we dig up, salvage, and preserve the trunks and stumps of these century-old giants for special projects. Perfect for a variety of tasks, these raw and organic wood chunks will effortlessly brighten up any part of your home or garden. Needless to say, these pieces are creative and artistic as they are practical. Specifically, salvaged redwood tree stumps retain their unfinished and raw texture, which adds to their unique appeal and character. It is truly an irreplaceable experience to choose and cherish your very own decorative redwood tree stumps.
Of course, what you decide to do with a redwood stump is entirely up to you. Whether you want to use it as a supporting surface for a worktop, practical coffee table, or accenting decoration, redwood stumps will surely add a unique touch to any space. Without a doubt, there is a perfect piece for every project. Additionally, the variety of height, size, and shape of our redwood stumps give you freedom to re-purpose them in any creative way. In the case that you are in love with the idea of recycling raw redwood, but are stumped for ideas, we've got you covered.
Below, we have compiled some of our favorite uses and ideas for decorating and using redwood tree stumps. Many of these ideas are our customers' unique visions of their projects with redwood. Unlike many wood supply companies, we work individually with our clients to ensure that you find and value this new, prized addition to your home. On that note, we are open to hearing your ideas and helping you realize them! We love to see how projects turn out with your redwood and are always open to more suggestions!


Sturdy Table & Desk Bases
By far, the most popular use of redwood tree trunks is table bases. Their sturdy, flat surface allows for easy tabletop pairing and mounting. Try pairing a redwood stump base with a redwood slab for a cozy, all-wood look. Or, choose a complementing surface to create your very own coffee table, end table, or desk. Select a base at your desired height, or have us cut it to your preferred height.
Decorative Flower Planter
With organic nooks and crannies, redwood driftwood, burl wood, and stumps are ideal for D.I.Y. flower planters in the home or in your garden. Much like a terrarium, smaller pieces work best with air plants that require little to no watering, or succulents and cacti. Bigger pieces with a wider footprint (flat, usable surface) allow for the storage of multiple flower pots. Tall stumps can be made into flower towers or leveled pot stands. The cool aspect about small driftwood pieces is that they are also incredibly mobile and versatile. If you are looking for an easy weekend project with redwood – this one is for you!
Accent Coffee Tables
Each one of our redwood tree stumps is incredibly unique. Some of these pieces are so magnificent, that they simply require their own space to adorn. Frequently, intricate and ornamented tree stumps make excellent artistic coffee tables on their own. The main difference between pieces that are bases or coffee tables is their size. Typically, smaller pieces can be coupled up to support a bigger surface. Redwood tree stumps with a wide, flattened surface are easy to style and easily complement surrounding decor. In the past, we have done a variety of projects with redwood root stumps. From hotel lobbies to personal, cozy nook tables, we can custom-craft your project for you, or you can choose to keep it raw and unfinished.
Yard & Lawn Landscaping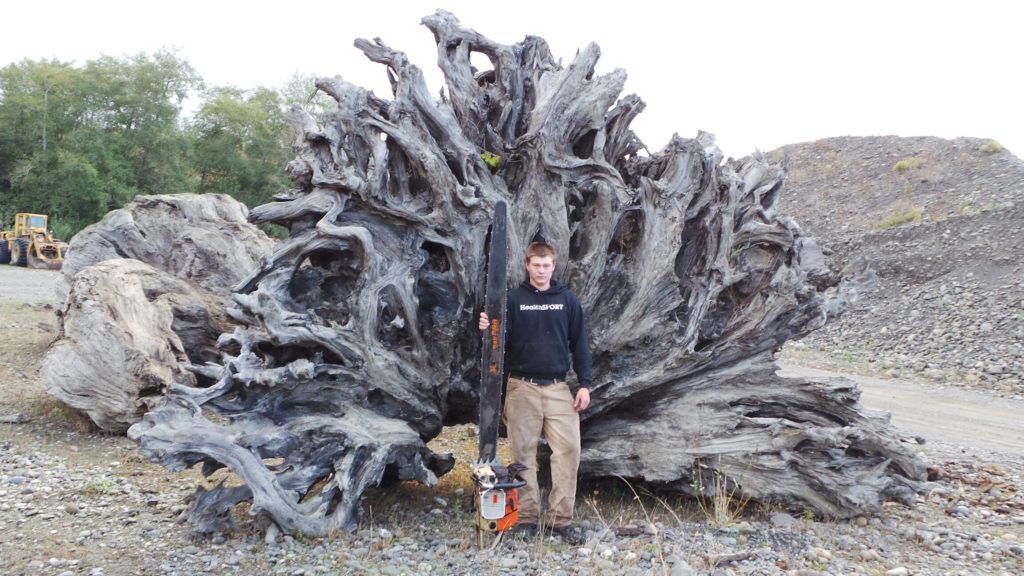 Looking for ways to easily enhance the atmosphere and look of your garden? Landscaping with raw redwood is easy, as it blends in with the outdoor, natural textures. A tree stump doesn't have to be an eyesore. Redwood's natural textures and colors make it a great option for a wood lawn ornament. From large landscape pieces to smaller, more versatile accent stumps, you can create a magical, forest-like scene in your own backyard.
As pictured, large tree root systems are also pieces we salvage. These entire root systems are extracted from the ground and therefore look almost out-of-worldly. Each root and stump is incredibly unique and shows a different variation of grain, texture, and color. As pictured, you can see how massive these pieces can be. After all, we are extracting a century-old root system! Without too much effort, you can completely transform the look and feel of your garden or lawn with redwood landscaping. Many of our customers treasure these pieces for centuries and generations to come. Typically they outlive many generations – you can even determine their age by looking at their growth ring formation!
Garden Furniture
Use flat, or round tree stumps as natural garden furniture in the form of stools or chairs. Combine smaller stumps with slabs to design your own custom bench. Wooden textures of redwood easily blend in with garden decor and add a comfortable, cozy nook to your outdoor garden or yard. Additionally, redwood in exterior conditions outlasts any other wood species in the U.S. Already a prized and preserved treasure, redwood will outlive multiple generations and stay in your family for decades. It is important to note that redwood is one of the few species of wood that has immense durability and longevity. In the case that you choose to decorate and deck out your garden with redwood, know that it will last a lifetime! While it is an option to coat and finish these pieces with sealer, it is a popular choice for outdoor furniture to leave unfinished and natural.
Keep in Mind…
Our supply of redwood tree stumps extends beyond our online listings. If you have a particular project or piece in mind, let us know. As always, we are here to best assist you in your selection of salvaged redwood materials. In the case that you are looking for more redwood interior design and landscaping ideas, be sure to follow our Facebook and Pinterest.