Rustic Dining Tables
Redwood is one of the few trees that will produce wood slabs that are long and wide enough to produce a full live edge table out of a single slab. This allows us to produce absolutely gorgeous rustic dining tables. With most other woods, you will need to mill your boards, then glue the boards together to get the width you desire.  Old-growth redwood is also one of the most beautiful and ornate woods on earth. Although the longer wood slabs will tend to usually be more straight grain, it is very common for redwood to have lots of curl in them. Curl is a very wavy grain pattern that is highly desirable (example of curl in Figure 1).
Environmentally Friendly Rustic Dining Tables
In the old days, when redwood trees were primarily cut down to mill into lumber, any logs or stumps which contained curl were left in the woods. These were not considered suitable for milling. New trees were planted around them, Now, they too are being harvested for lumber.
We are now bringing these old logs and stumps out of the woods. They are considered salvaged. This is one of the ways we are able to acquire our old-growth logs in an environmentally conscious way. This is what we refer to as ethical sourcing.
We use trees that were harvested decades ago. This gives them a new life, instead of leaving them to rot on the forest floor. These logs will live forever as furniture to be enjoyed by many for decades or even centuries to come.
Root Wood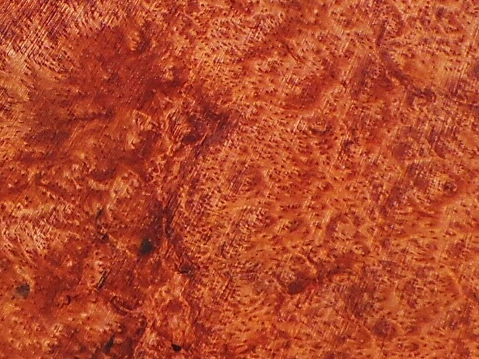 Smaller live-edge tables are sometimes made using root wood. We harvest this wood from the roots and stumps of trees which were previously harvested.
It is in the redwood tree roots that you will find some of the more spectacular and burly grain variations (Figure 2) like birds-eye.  We use this type of burly-grained wood to make spectacular rustic burl wood tables. We can make these tables with a live edge or a shaped edge.
Table Edges
You should definitely consider what type of edge you want your table to have. You may choose from two options for the edge of your rustic dining table.
We find that the type of table that has the most character and is gaining more popularity recently is a live edge dining table. A live edge table preserves the natural edge and/or bark of the slab that the tree is cut from (Figure 3). Live edge tables, while very popular, just may not be the look that you're looking for. If you're looking for a rustic dining table that has a warmer or smoother feel and look to it, we also can cut and shape the edges of the burl wood to your preference (Figure 4).
The more spectacular the grain, the rarer it is. Really spectacular grain is not something that we see in every piece of wood, as most redwood has a very long straight grain pattern.
Consider Table Size
First, you need to take into consideration the size of the table you want to build. This is determined by how many people you want to seat at the table. You will normally want two feet per person in length. After that, you need to choose the character of wood you want to use. This will partially be determined by your budget.
Ready To Shop?
If you can't find the perfect rustic dining table slab to meet your needs on our website, please be sure to give us a call in the office at (707) 826-9663 or contact us online.
We are only able to keep a very small part of our inventory online. If you let us know the character and dimension that you are looking for, and the budget you have to work with, we can almost always find you the perfect piece of wood to meet your needs. During this process, we will send you pictures of the suitable products we have available.  Once you make your choice, we can go over finishing and delivery options and get you a final quote on your project.
Rustic Dining Table Bases
Consider some of the base options we provide for rustic dining tables. We have both wood and metal options available. You will determine how many bases, and their size, by the size of your table. We can help you with all of that, and get you pictures of the bases and your slab paired together in order to give you a good idea of what you are going to get for a final product.